Alkali and acid resistant hexagonal Stainless Steel Mesh is made of
stainless steel wire rating 304, 305, 306 or 316. SS hexagonal mesh enjoys excellent corrosion resistance suitable for long term uses.
Popular size: 100 foot (32 meter) length and 1 meter or 72" width rolls.
Stainless steel hexagonal wire are used for architectural uses as metal mesh curtains or draperies, decorative mesh, and protective fence, chicken and poultry fence, both indoors and outdoors. It also can be used as pipe wrapping in petroleum and chemical industries.

Stainless Steel Finish Chicken Mesh, For Poultry Netting, Hexagonal Twisted, Rust Proof Metal Cloth Fabrics
Material: Stainless steel wire AISI302, 304, 316, etc.
Hole Shape: Hexagon, six-sided openings.
Aperture: 1/2'' 3/4'' 1'' 1.5'' 2''
Wire Gauge: BWG12--BWG27
Weaving Patterns: Straight twist, reverse twist, double twist.
Twisted Hexagonal Wire, from SS Wire 316, Rust-free Netting Cloth for Decoration and Poultry Fencing Uses: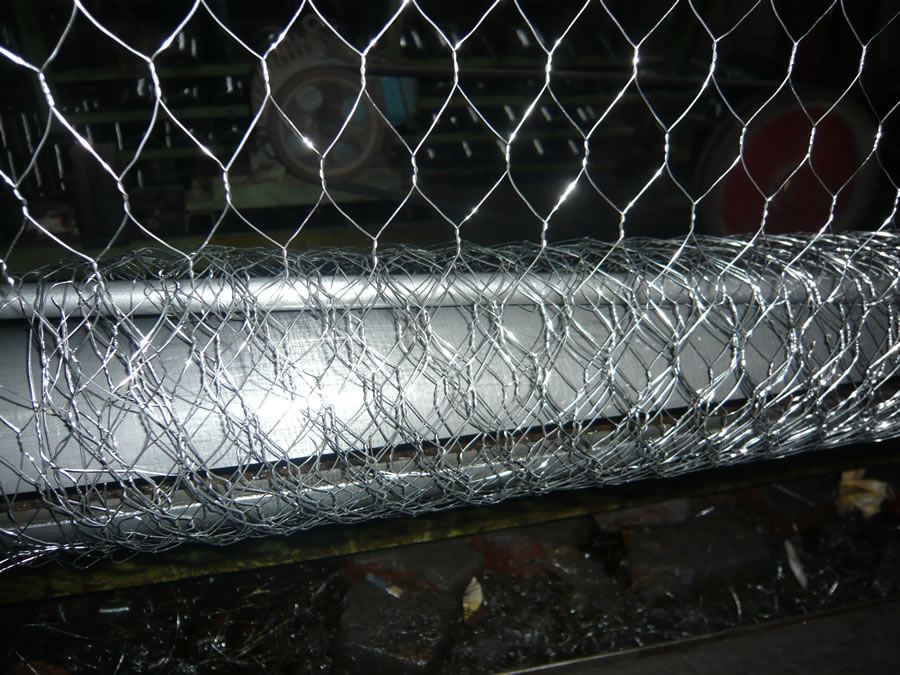 Twisting Illustration of Stainless Steel Chicken Mesh on the Weaving Machine: Stainless steel mesh cloth is found in furniture, cabinet mesh, gopher control, pet exclusion, mole control, arts and crafts, decorative surface treatments, garden and lighting applications, farming, etc. The wire materials are NOT PLATED, but are from pure stainless steel wire.
Wire diameter: Ranging from 19 gauge (1 mm wire) to 22 gauge (0.7 mm).
Common Specification Table for Stainless Steel Hexagonal Mesh, with Inch and Metric Unit, Wire Gauge and Notes:
Size in Inch
Size in Metric Unit
Wire Gauge(BWG)
Technical Note
1/2
1.5cm
22
Max. roll width:2m;
Single or double edge
24
3/4
2cm
20
Max. roll width:2m;
Single, double, or with reinforced edge for customer's choice
22
24
5/8
1.8cm
21
Single or double edge
23
25
1
2.5cm
19
Max. roll width:2m;
Normal and reverse twist
21
23
1.25
3cm
19
Max. roll width:2m;
Normal and reverse twist
21
1.5
4cm
18
Max. roll width:2m
20
22
2
5cm
18
Max. roll width:2m
20
22