Wire Materials for Twist Weave Steel Chicken Mesh : Mild steel wire, stainless steel wire, PVC wire, etc.
Popular openings: 10mm x 10mm, 15mm x 15mm, 20mm x 20mm and 50mm x 50mm. Supplied in various roll width to suit specific fencing sizes.

Galvanized steel mesh has the property of corrosion-resisting, oxidation-resisting and rust resisting. This chicken wire netting is suitable for use on chicken and poultry runs and pens, also used for keeping boiler warm and wrapping pipelines.


Gal. Steel twisted hexagonal mesh, straight and reverse twisted, used for chicken wire fencing and industrial pipe binding and wrapping.
Process of Hexagonal Mesh: Galvanized after weaving or galvanized before weaving. We produce chicken wire netting from quality mild steel iron wire, pregalvanized with bright shine. Or the whole hexagonal woven chicken mesh is woven then treated with hot dipped galvanized.
Finishes: Electro galvanizing, hot-dip zinc plating, stainless steel or PVC coated.
Features: Hexagonal hole chickn mesh enjoys rust resistance, good corrosion resistance and oxidation resistance, flexible structure and easy forming.
General Uses: Steel, stainless steel and coated hexagonal mesh serves well as strengthing, protection and temperature keeping insulation materials in the form of mesh container, stone cage, boiler cover or tubing sleeves. It is popularly used in in construction, petroluem, chemical, chicken and poultry breeding, garden and food processing industries.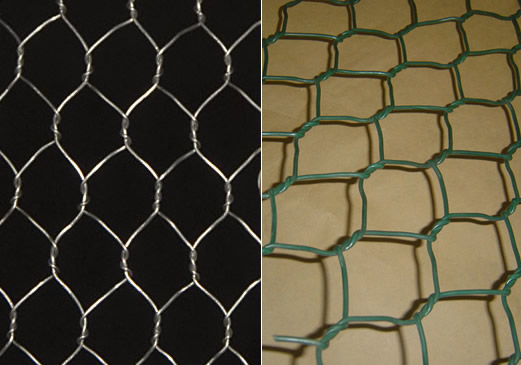 Mild steel chicken mesh supplied with further electro galvanizing or hot dipped zinc plating or PVC coating finishes.
Galvanized Hex. Chicken Mesh Netting in Normal Straigth Twist (width of 0.5M-2.0M)

Mesh

Wire Gauge (BWG)

Inch

mm

3/8"

10mm

27,26,25,24,23,22,21

1/2"

13mm

25,24,23,22,21,20,

5/8"

16mm

27,26,25,24,23,22

3/4"

20mm

25,24,23,22,21,20,19

1"

25mm

25,24,23,22,21,20,19,18

5/4''

32mm

22,21,20,19,18

3/2''

40mm

22,21,20,19,18,17

2"

50mm

22,21,20,19,18,17,16,15,14

3"

75mm

21,20,19,18,17,16,15,14

4"

100mm

17,16,15,14
Galvanized hex. chicken mesh netting in reverse twist (width of 0.5M-2.0M)

Mesh

Wire Gauge(BWG)

Reinforcement

Inch

mm

(BWG)

Width(ft)

Strand

1"

25mm

22,21,20,18

2'

1

1-1/4"

32mm

22,21,20,18

3'

2

1-1/2"

40mm

20,19,18

4'

3

2"

50mm

20,19,18

5'

4

3"

75mm

20,19,18

6'

5