Hexagonal Wire Netting and Common Specifications
Hexagonal Wire (Chicken/Rabbit/Poultry Wire) is made of low carbon iron wire, galvanized or hot-dip zinc plated before or after weaving. It is extensively used in INDUSTRIAL AND AGRICULTURAL CONSTRUCTUONS AS REINFORCEMNET AND FENCING. It is also used as Fence for Poultry Cage, Fishing, Garden and Children playground, etc.
Woven types:
straight twist, reverse twist, double-direction twist.
Weaving before galvanized, weaving after galvanized.
Surface treatment: electro galvanized , hot-dipped galvanized and PVC coated.
It can be fabricated into gabions boxes – one of the most popular wire products for flood control. Then stones are put into it. Laying of gabions make a wall or bank against water and flood. Hexagonal wire netting is also welded into poultry netting for breeding of chicken and other poultry. Popularly used as fences after green coated, and costs can be reduced.
According to the application, we can supply wire netting in the following types:
General Purpose Wire Netting;
Heavy Type Wire Netting;
Poultry Netting;
Chicken Wire;
Wire Netting for Fences.
Hexagonal Mesh Assortments Available:
Hexagonal Mesh, Electro Galvanized before Weaving;
Electro Galvanized After Weaving;
Hot Dipped Galvanized before Weaving;
Hot Dipped Galvanized after Weaving;
PVC Coated Before or After Weaving.

Materials:
Galvanized Hexagonal Wire;
Plastic or Vinyl Coated Hexagonal Wire;
Stainless Steel Hexagonal Mesh;
Copper, brass mesh.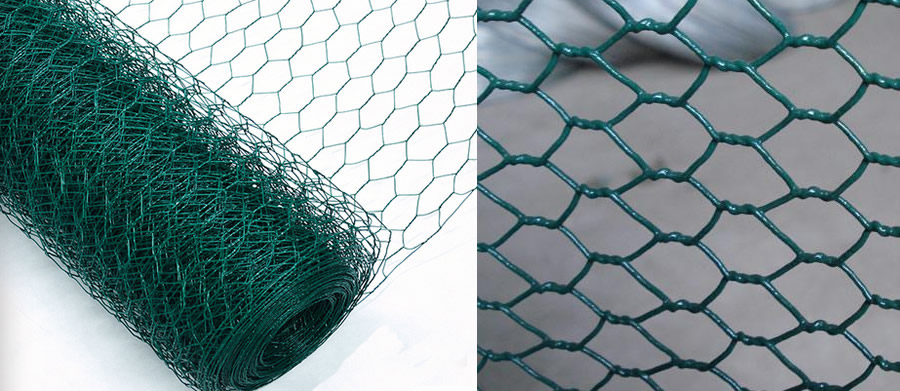 Hexagonal Mesh twisting types available: Straight Twist, reverse twist and double twist.

Specifications List of Hexagonal Mesh

Holes

Wire Diameter

Hexagonal Mesh Roll Width

Mesh(inch)

Size no(mm)

Limit error

British system Gauge

Metric system wire diameter

British system

Metric system

3/8"

10

+0.5

BWG:27-23

0.41-0.64mm

1'-6'

0.1-2m

1/2"

13

-1.5

BWG:27-22

0.41-0.71mm

1'-6'

0.1-2m

5/8"

16

+1.0/-2.0

BWG:27-22

0.41-0.71mm

1'-6'

0.1-2m

3/4"

19

+1.0/-2.5

BWG:26-20

0.46-0.89mm

1'-6'

0.1-2m

1"

25

+1.5

BWG:25-29

0.51-1.07mm

1'-6'

0.1-2m

1.25"

31

-3.0

BWG:24-18

0.56-1.24mm

1'-6'

0.2-2m

1.5"

40

+2.0/-4.0

BWG:23-16

0.64-1.65mm

1'-6'

0.2-2m

2"

51

+2.0/-4.0

BWG:22-14

0.71-2.11mm

1'-6'

0.2-2m

3"

76

+2.0/-4.0

BWG:21-14

0.81-2.11mm

1'-6'

0.3-2m

4"

100

+2.0/-4.0

BWG:20-12

0.89-2.8mm

1'-6'

0.5-2m

Custom Order Accepted
Features:
Corrosion- resistant, rust-resistant.
Oxidation –resistant, good tensile strength.
Uniform mesh size, flat and even mesh surface, weave tightly.
Easy to handle and cut.
Straight Twist Hexagonal Mesh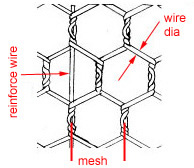 Specifications:
Hexagonal wire is made using the wire diameter is 0.3mm-2.0mm galvanized wire, if it is pvc coated, the outer diameter is 0.8mm-2.6mm.
Material:low carbon iron wire
Wire diameter:BWG17-22
Hole opening:1 1/2"X1 1/2"
Width:1m
Length:30m
Packing: normaly each roll packed in waterproof paper then in termo foil/shrinked
Application:
Straight twist hexagonal mesh serves as strengthening, protection and temperature keeping materials, boiler cover or poultry fence.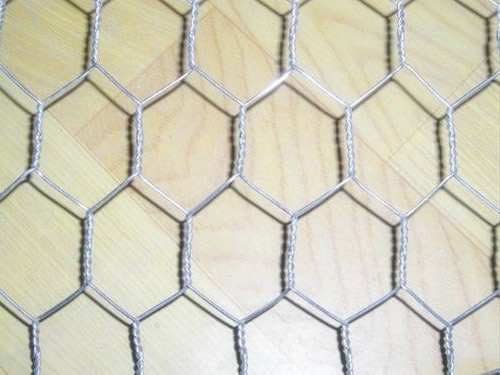 Chicken Wire with Common Specifications
Chicken netting cloth with its good corrosion resistance and oxidation resistance, serves well as strengthening, protection and temperature keeping materials in the form of mesh container, stone cage, isolation wall, boiler cover or poultry fence. Used in construction, chemical, breeding, garden and food processing industries.
Galv. Steel Chicken Wire Specification with Mesh, Min. Zinc Coating Quantity, Roll Size and Wire Gauge
mesh
Min. Gal.v.
G/SQ.M
Width
Wire Gauge (Diameter)
BWG
Inch
mm
Tolerance(mm)

3/8"

10mm

±1.0

0.7mm - 145

2' - 1M

27, 26, 25, 24, 23

1/2"

13mm

±1.5

0.7mm - 95

2' - 2M

25, 24, 23, 22, 21

5/8"

16mm

±2.0

0.7mm - 70

2' - 2M

27, 26, 25, 24, 23, 22

3/4"

20mm

±3.0

0.7mm - 55

2' - 2M

25, 24, 23, 22, 21, 20, 19

1"

25mm

±3.0

0.9mm - 55

1' - 2M

25, 24, 23, 22, 21, 20, 19, 18

1-1/4"

31mm

±4.0

0.9mm - 40

1' - 2M

23, 22, 21, 20, 19, 18

1-1/2"

40mm

±5.0

1.0mm - 45

1' - 2M

23, 22, 21, 20, 19, 18

2"

50mm

±6.0

1.2mm - 40

1' - 2M

23, 22, 21, 20, 19, 18

2-1/2"

65mm

±7.0

1.0mm - 30

1' - 2M

21, 20, 19, 18

3"

75mm

±8.0

1.4mm - 30

2' - 2M

20, 19, 18, 17

4"

100mm

±8.0

1.6mm - 30

2' - 2M

19, 18, 17, 16
Galvanized steel hexagonal mesh used for chicken wire has its own standard technical requirements and marking
methods. The following marking and standard requirements are applied to the machine woven low carbon galvanized hexagonal wire mesh products designed for construction, heat keeping, chicken wire fencing, etc.
What Does the Standard Marks Mean:
XD in marking of hexagonal mesh refers to the processing of weaving after galvanizing; XB refers to hexagonal wire mesh zinc plated after weaving; W refers to the mesh spacing; D refers to the wire diameter; L refers to the wire mesh roll length, B refers to the hexagonal wire mesh roll width can be made.
Detail Technical Demands for Low Carbon Steel Galv. Hexagonal Mesh Suitable for Chicken Wire:
1. The wire material for making of hexagonal mesh shall meet GB-3081-8290 standard for Hot Dipped Zinc Plated Low Carbon Steel Wire for General Uses, YB554-55 Standard for General Use Electro Galvanized Low Carbon Steel Wire, or GB343-8 General Use Low Carbon Steel Wire. The metal zinc shall meet GB470-64 On Zinc and Technical Requirements about Zn;
2. The surface shine of the hexagonal mesh for chicken wire shall be basically the same.
3. The hexagonal mesh roll surface curve or wave requirements: for those marked with XD, that is hexagonal mesh galvanised before weaving, it shall be max. 80mm; for hexagonal mesh marked with XB (weaving before hot dipped zinc plating), it shall be max. 100mm.
4. There shall be no breaking of wire during weaving. The breaking wire numbers shall be controlled within certain limit at checking.
5. About loose wire: There shall be no more than one piece within 15 square meters of hexagonal mesh; the horizontal length shall be max. 500mm, the vertical shall be max. 3 holes;
6. Within every square meter of wire mesh surface for XB hexagonal mesh weaving before galvanizing, the mesh holes with zinc powder shall be max. 2% of the whole mesh numbers;
7. For XB hexagonal mesh chicken netting: The zinc plating for the mesh surface shall be more than 300 G per square meter;
8. For XB hexagonal chicken wire mesh, the uniform of the zinc plating shall be tested more than twice with sulfur erosion testing, one minute per test;
9. XB woven hexagonal mesh before galvanizing: The mixing of wire shall be max. one time every 100mm vertically, shall be less than 500mm every time. 100mm under is not for checking.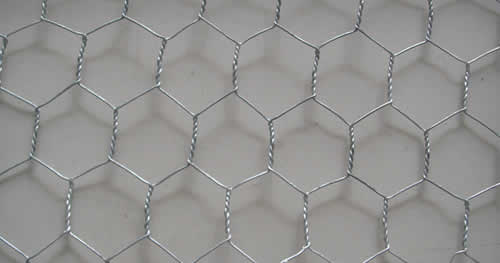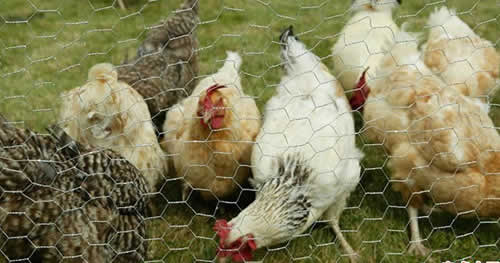 Applications: Gabions
Hexagonal mesh for containing stones to form cells units for construction of road and slopes.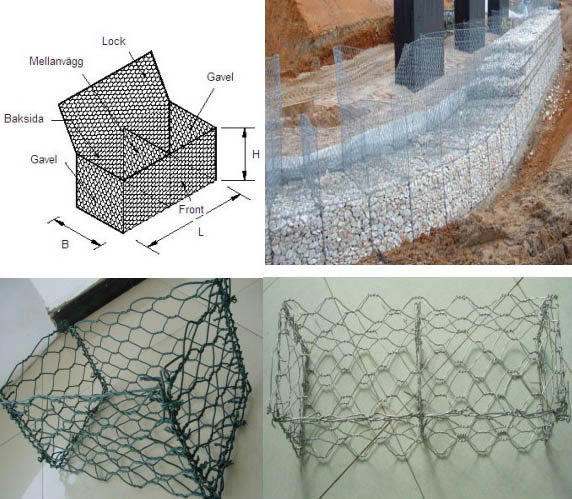 Fence Netting
Galvanised and coated hexagonal mesh is suitable for deer netting/fencing. Having the structures of twisted wire, deer netting won't break easily as a whole. It is a kind of economic mesh fence used for chicken fencing, poultry runs and enclosures or pens.
The chicken wire netting is supplied in rolls of 50 m or 100 m lengsth and various sizes. This wire netting is also suitable for use on rabbit runs and pens.
Deer netting fence is mainly made of hot dipped galvanised wire, galvanized after twisting for good strength.
| | |
| --- | --- |
| Hexagonal mesh fence netting, hot dipped galvanized (galvanized) wire, before weaving. Reverse twisted | Weight/rolls |
| 0.7mm x 1/2" 0.50 x 50m | 13.5 |
| 0.7mm x 1 1/4" 0.50 x 50m | 7 |
| 0.7mm x 1 1/4" 1.00 x 50m | 13.5 |
| 0.7mm x 1" 0.50 x 50m | 13.5 |
| 0.7mm x 1/2" 1.0 x 50m | 7 |
| 0.7mm x 1 1/2" 0.50 x 50m | 13.5 |
Poultry Netting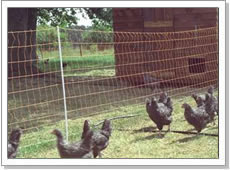 Chicken wire is the traditional low-cost solution for poultry houses, for domestic pet control and numerous general applications.

Descriptions:
Material: Low-carbon iron wire
Weaving Patterns: Straight twist, reverse twist, double twist.
Opening: Hexagonal
Size: mesh3/8''-4'' wire dia14-27BWG
Process: Galvanized after weaving or galvanized before weaving.
Finish: Electric galvanizing, hot-dip zinc plating, stainless steel or PVC coated.
Color: Bright for galvanized chicken wire. Many colors are available for PVC coated chicken wire netting, including green, white, grey or other colors; enamelled chicken wire mesh is green.
18 ga galvanized, vinyl coated chicken poultry wire, green vinyl coated treatment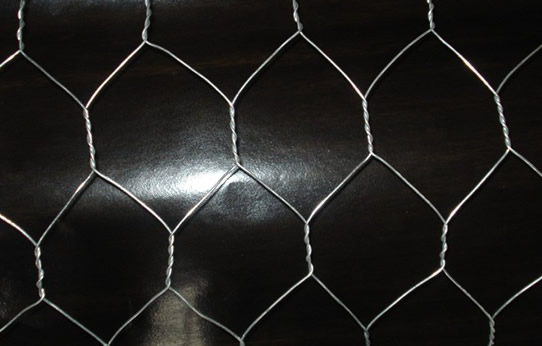 Hexagonal 1/2 Inch Poultry Net for Fencing Mesh Uses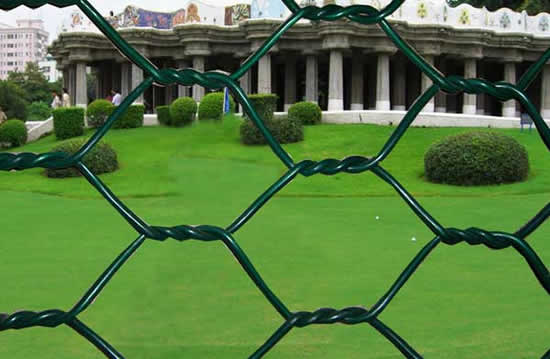 Electric Galvanized Hexagonal Mesh Fence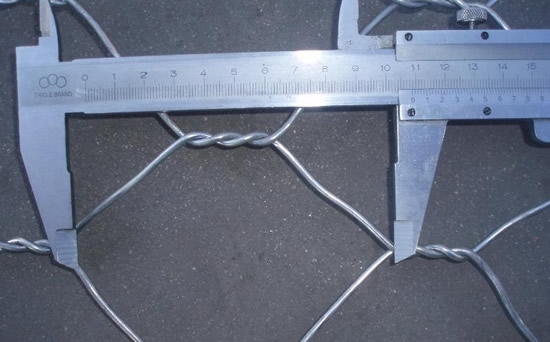 50mm Hole Galvanised Hexagonal Chicken Coop Wire Netting
Common sizes we offer:
1/2 Inch 1 Inch 2 Inch Hexagonal Wire Netting
0.5-1.6mm Galvanised Hexagonal Chicken Coop Wire
Stucco Wire Mesh:
Manufactured in galvanised iron and galvanised iron drawn wire in the width from 0.6m to 2m. Used for cement concrete construction stucco system, plastering and laying of roads. Also used for insulation in cold storage and AC plans.

Specifications:
various kinds of specifications,
width:0.60\0.914m\1m\1.5m\2m
length:25m-50m/roll