Vinyl coated chicken wire is supplied in popular black color, made of galvanized steel wire with powder coating. Supplied in rolls of 24 inch x 150 feet, 48 inch x 410 feet, 72 inch width x 150 feet. Chicken wire sizes are 13mm mesh and 20mm mesh in hexagonal opening twisted with 18 gauge or 20 gauge galvanized wire.
18 Gauge Black Vinyl Coated Galvanized Steel Chicken Wire Hex Mesh: Processing, Features and Roll Sizes
Processing: 18 or 20 gauge galvanized core wire is woven into hex netting and coated with black PVC material. The wire mesh goes through a high temperature heating process to finish the vinyl coating to the chicken wire.
Features: The black vinyl chicken netting has an approximate 18 gauge thickness after the pvc finished and it has a very good corrosion resistant. Inhibitors in the vinyl protect it from UV degradation. The vinyl/plastic coating has a extreme resistant to cracking, chipping and weathering as the thick coating is tightly bonded to the wire. Black color makes the mesh blend in the landscape. This long-lasting mesh works well in a variety of applications like surrounding the home or farm, including bird pens and garden fence.
Vinyl coated wire mesh rolls: in roll width and length: in inch and feet:
24 inch x 50 feet, 36 inch x 50 feet, 48 inch x 50 feet, 12 inch x 150 feet, 18 inch x 150 feet, 24 inch x 150 feet, 36 inch x 150 feet, 48 inch x 150 feet, 60 inch x 150 feet, 72 inch x 150 feet, 84 inch x 150 feet, 90 inch x 100 feet.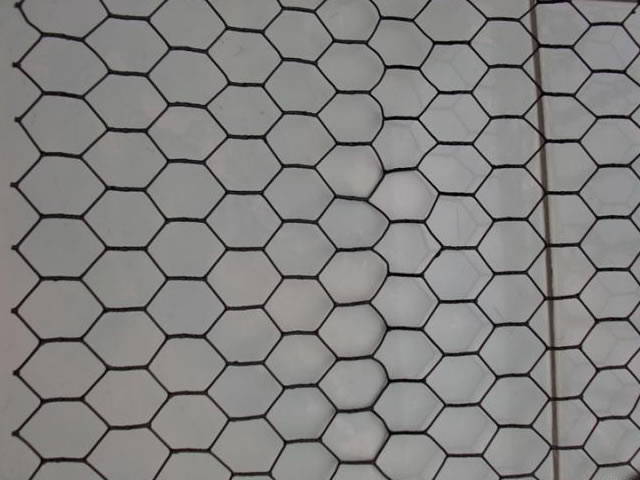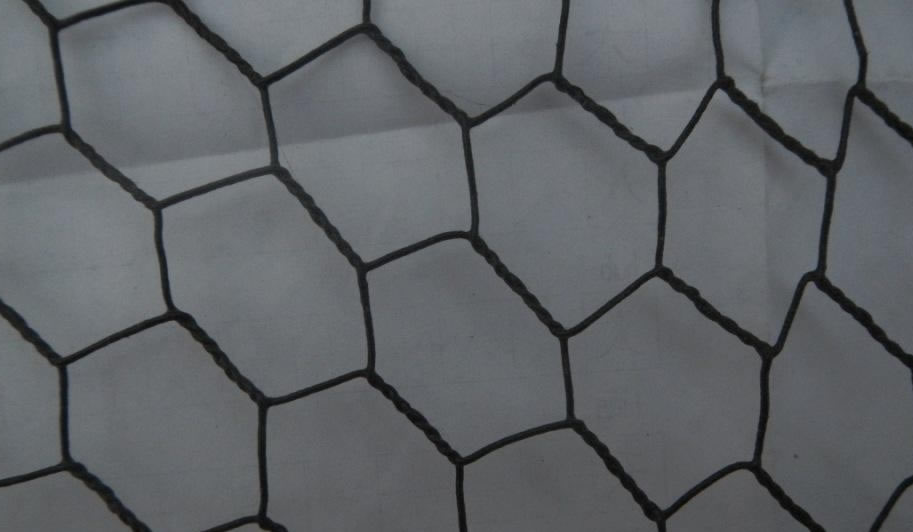 Powder Coated Steel Wire Mesh for Poultry Fencing / Chicken Fencing / Rabbit Fencing and Garden Fencing: PVC or Vinyl Coating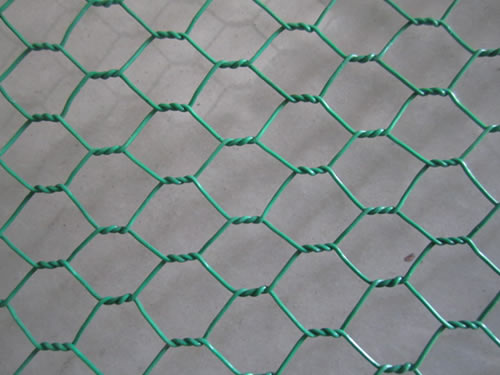 Green Vinyl Coated Steel Wire Poultry Perimeter Fencing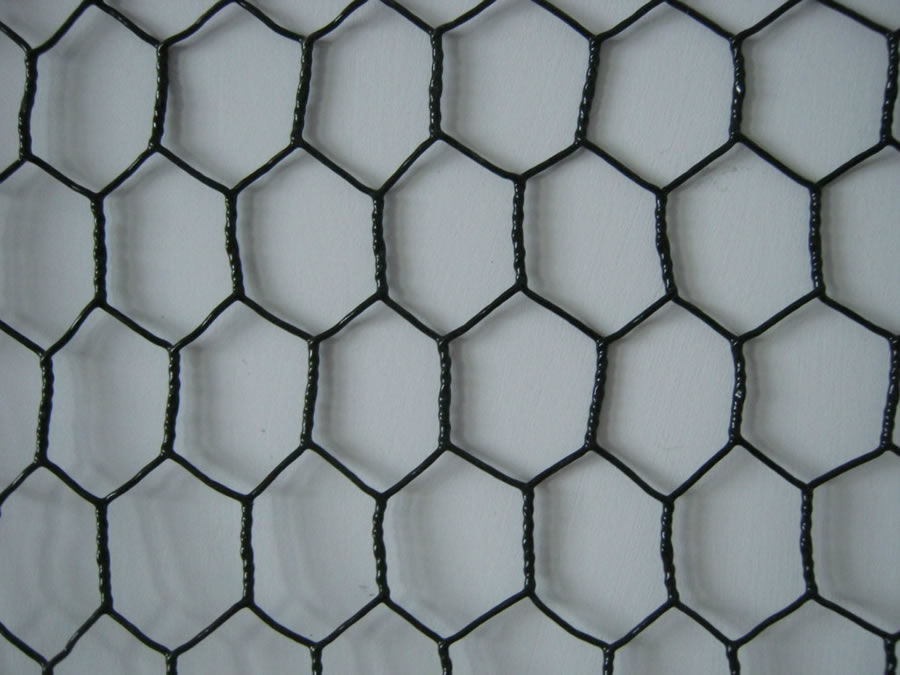 Black Vinyl / Plastic Coated Mild Steel Wire Mesh, Suitable for Rabbit Netting Fencing, Made of Galvanized Iron Wire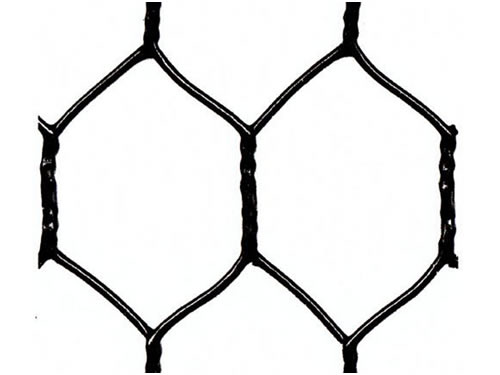 Twisting Patterns Applied for Hexagonal Net
Green and Black Vinyl Coated Hexagonal Mesh Fencing Offers More Benefits Over Heavy Galvanized Wire Mesh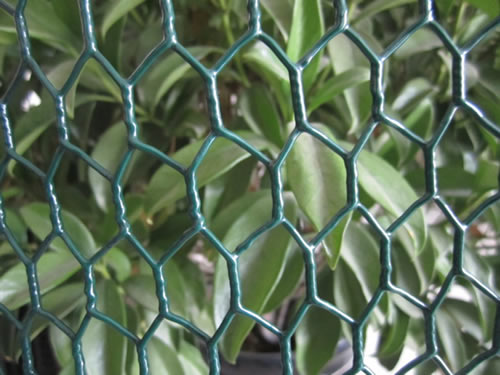 Hexagonal Wire Coated with Vinyl Green Powders, for Garden Fencing
Vinyl coated hex netting is made up of tightly twisted hexagonal mesh by using the perfect quality iron wire. It is usually in green and black color thus presenting a beautiful appearance. Vinyl coated steel wire netting has longer serves life than heavily Galvanized wire.
Usage: It is widely used for breeding chicken, duck, goose, rabbit, and also act as fencing in zoo, machinery equipment's protection, speedway's fencing, landscape green belt protection mesh on the road. Vinyl powder coated mesh wire is perfect for the construction of a smaller or larger zoo. Also can be used for rabbit fencing to protect your organic garden from rascally rabbits.
Note: The thickness of Powder Coating is usually 0.2-0.4mm, with arranged as per buyers request.
Package: Normally each roll is packed in water proof paper, then in termal foil (Shrink Plastic).
SPECIFICATION LIST OF VINYL COATED CHICKEN WIRE MESH FOR EXPORT IN METRIC UNIT
Mesh Size(mm)
Wire Diameter(mm)
Width(m)
13mm
0.6mm-1.0mm
0.5-1.0
20mm
0.6mm-1.0mm
0.5-1.5
25mm
0.7mm-1.3mm
0.5-1.5
30mm
0.85mm-1.3mm
1.0-2.0
40mm
0.85mm-1.4mm
1.0-2.0
50mm
1.0mm-1.4mm
1.0-2.0
75mm
1.2mm-1.6mm
1.5-2.0
Length available in 10m, 25m, or 50m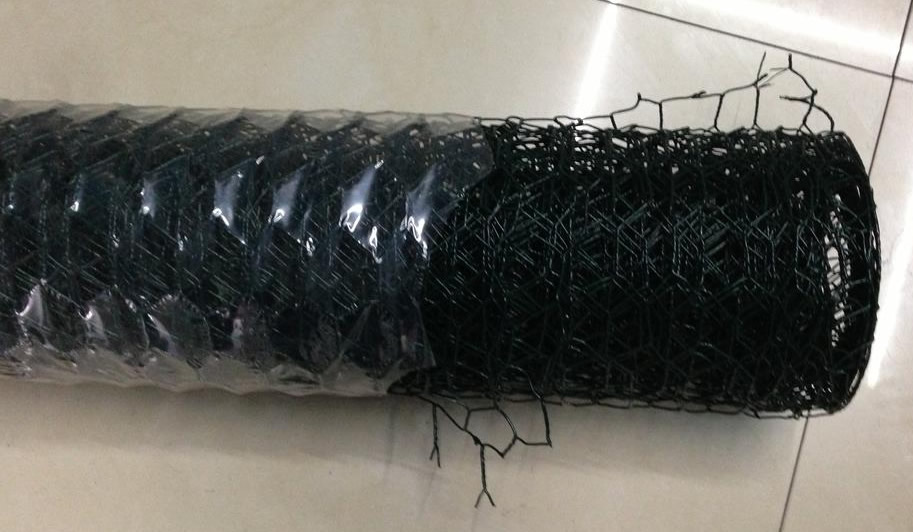 Hexagonal mesh fences with firm structure and flat surface, enjoying such properties as corrosion resistance, aging resistance, sunshine resistance and weather resistance.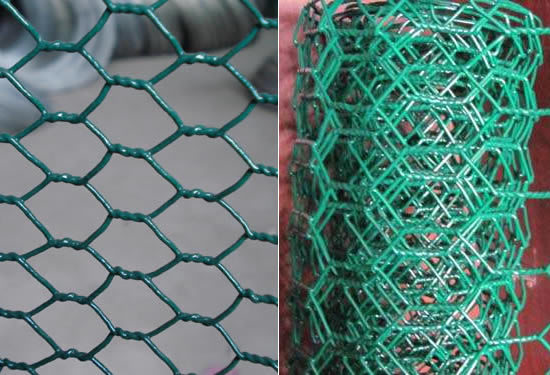 Galvanized and PVC Coated Wire Mesh Anti-rust Treatment
Specification in Inch Unit:
Specifications of Vinyl Powder Coated Hexagonal Mesh

Specifications

Twistable Wire Diameter

Twistable Width

Mesh (inch)

Size No(mm)

Limit Error

British System No

Metric System

Wire Diameter

British

system

Metric System

3/8"

10

+0.5

BWG 27-23

0.41-0.64mm

1'-6'

0.1-2m

1/2"

13

-1.5

BWG 27-22

0.41-0.71mm

1'-6'

0.1-2m

5/8"

16

+1.0/-2.0

BWG 27-22

0.41-0.71mm

1'-6'

0.1-2m

3/4"

19

+1.0/-2.5

BWG 26-20

0.46-0.89mm

1'-6'

0.1-2m

1"

25

+1.5

BWG 25-29

0.51-1.07mm

1'-6'

0.1-2m

1.25"

31

-3.0

BWG 24-18

0.56-1.24mm

1'-6'

0.2-2m

1.5"

40

+2.0/-4.0

BWG 23-16

0.64-1.65mm

1'-6'

0.2-2m

2"

51

+2.0/-4.0

BWG 22-14

0.71-2.11mm

1'-6'

0.2-2m

3"

76

+2.0/-4.0

BWG 21-14

0.81-2.11mm

1'-6'

0.3-2m

4"

100

+2.0/-4.0

BWG 20-12

0.89-2.8mm

1'-6'

0.5-2m