Factory Specialized in Producing Hexagonal Chicken Wire Products. Available in Stainless Steel, Galvanized Steel, Copper and Galfan Materials.
We supply mainly Hexagonal Hole Woven Wire Mesh Chicken Wire, also used as Poultry Wire, Stucco Netting, Mesh Fences and Gabions. Wire netting with hexagonal hole offers flexible structure, good ventilation and fencing uses. Hex Chicken Wire made of steel wire has enhanced corrosion resistance with further zinc coating and plastic coating treatment. Specific materials and treatment has different features. For example, heavy hexagonal poultry netting, made of high quality low carbon steel wire, enjoys a tensile strength of about 38kg per square meter. PVC coated galvanized wire woven hexagonal chicken wire has a greatly improved corrosion resistance property compared with mild steel meshes. The twisting hexagonal mesh can be exposed to a wide range of deformations without becoming broken or collapsed.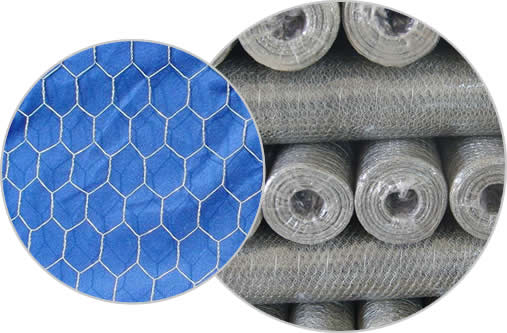 Weaving Types Options:
Three processing methods: straight twisted, reverse twisted and double twisted strengthened.

Materials Options:
Galvanized iron, stainless steel, plastic coated iron wire, vinyl coated wire, galfan wire, copper / brass / phosphor bronze wire.
According to applications, Hexagonal Nettings are used in the following fields:

Building materials for wall reinforcing, for structural support purposes and heat insulation: used as stucco netting and plaster mesh;
Pipe wrapping materials;
Light fencing applications: Machine guards, protective fences, garden fencing and other barriers;
Poultry wire fencing: chicken wire, coops, egg layer cages, rabbit control trellis and cages;
Gabion baskets and mattresses for reinforcement and protection of sea banks, slopes, bridges and other engineering projects;
Indicator & protection for underground cables and pipes, windows protection;
Architectural mesh and decorative mesh for furniture making and other uses.
The most popular specifications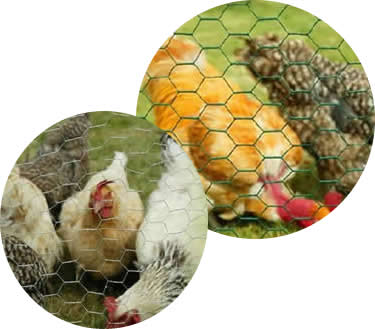 of steel chicken wire we offer are as listed below:
Mild steel chicken wire is made in hexagonal hole twisted mesh rolls. Finishes can be zinc plated or plastic coated.
Mesh size(mm) x wire thickness(mm) x mesh roll width(m) x mesh roll length(m)
13 mm x 0.7 mm x 0.5 m x (10 m, 25 m)
13 mm x 0.7 mm x 1.0 m x (10 m, 25 m)
20 mm x 0.7 mm x 0.5 m x (25 m)
20 mm x 0.7 mm x 1.0 m x (25 m)
25 mm x 0.8 mm x 0.5 m x (10 m, 25 m)
25 mm x 0.8 mm x 1.0 m x (10 m, 25 m, 50 m)
25 mm x 0.8 mm x 1,5 m x (50 m)
40 mm x 0.9 mm x 1.2 m x (50 m)
40 mm x 0.9 mm x 2.0 m x (50 m)
50 mm x 0.9 mm x 1.5 m x (50 m)
50 mm x 1.0 mm x 1.8 m/2.0 m x (50 m)
75 mm x 1.2 mm/1.4 mm x 1.8 m/2.0 m x (50 m)
100 mm x 1.6 mm x 1.8 m/2.0 m x (50 m)