Plastic mesh flat net is popularly used as aquaculture netting or poultry netting. It is made of durable polypropylene, polyethylene, HDPE material through cold thermoplastic. Plastic mesh is nontoxic and non-corrosive alternative to metal mesh wire. It has the features of wear and corrosion resistance, toughness and other characteristics. Plastic netting is easy to handle, has no sharp edges; used where a strong flexible enclosure is needed.

Plastic netting is mainly used in petroleum, chemical industry, chicken, rabbit and poultry breeding, aquaculture, tree guards, snow fencing, grass protection mesh, turf reinforcement mattress mesh and other industries.


Orange Plastic Mesh Safety Fencing:
Safety fence is also named as warning barrier and snow fence. The main color is orange, designed for warning. It adopts PE as major raw material with UV added in manufactured trough plasticizing.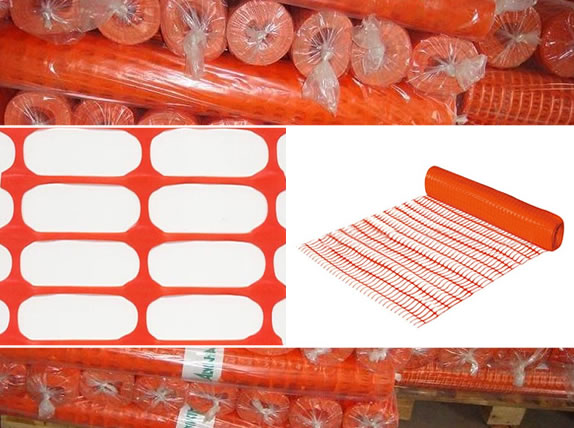 The opening of snow fence is rectangular and oval. The roll width is in the range from 1m to 1.80m. Many different mesh sizes and specifications are available for these products and multiple diverse products can be customized as per customers' requirements.

The most popular colour of these products is orange. And black colour, green colour or blue colour is also avaibale. Plastic Safety Mesh Fence have the following features:
(1)Manufactured from HDPE;
(2)U.V. stabilised;
(3)Re-usable.
Turf Reinforcement Mesh for Grass Protection:
Extruded plastic mesh is ideal for the reinforcement of turf and the protection of grass. The flat net enables the grass to intertwine with the plastic mesh filaments creating a strong stable reinforced grassed surface.

When installing turf reinforcement net, it is essential that the plastic mesh should be laid down to give enough time for the grass roots to intertwine with the plastic mesh filaments (E.g. early spring). This usually takes approximately one growing season. The reinforced grass turf are will soon resume its normal appearance with the turf reinforcement mesh vanishing below the surface of the grass providing a stable surface that will withstand the weight of light vehicles and heavy pedestrian use.

The plastic reinforcement mesh, also called grass protection mesh mattress, is mainly used for pedestrian grassed walkways, wheelchair access routes, light vehicle routes, overflow car parks, and airport taxi-ways. Material: PP, PE, 100% virgin HDPE.
Specifications:
| | | | |
| --- | --- | --- | --- |
| Roll Size | Colour | Mesh Aperture | Weight |
| 2m x 30m | Black | 26mm x 23mm(nominal) | 550g/m2 |
| 2m x 30m | Green | 26mm x 23mm(nominal) | 550g/m2 |
| 2m x 30m | Black | 27mm x 27mm(nominal) | 660g/m2 |
| 2m x 30m | Green | 27mm x 27mm(nominal) | 660g/m2 |
Material: The HPDE (polyethylene), PP (polypropylene).
Spacing: 0.1 ~ 10 cm.
Netting roll width: 60 to 210 centimeters.
Roll Length: Unlimited.
Weight: 100 to 1200 g / m².
Colors are black, white, blue, green, yellow and red.

Plastic Flat Hexagonal Mesh for Chicken and Poultry Breeding: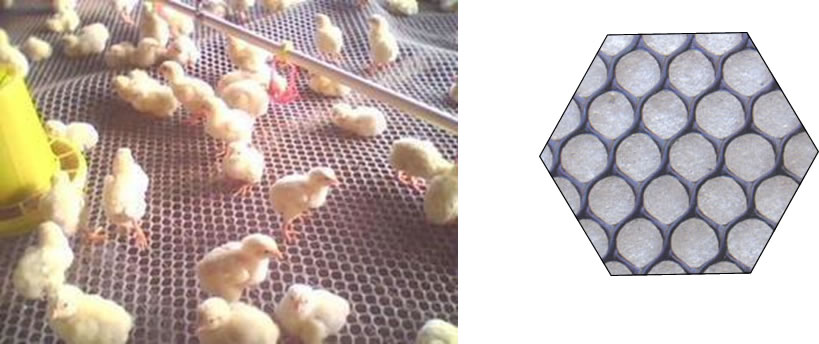 Specification of Plastic Flat Mesh:
| | | | |
| --- | --- | --- | --- |
| Opening (cm) | Thickness (mm) | Roll Diameter (cm) | Weight (g/m2) |
| 3 | 1 | 20-25 | 300 |
| 4 | 1 | 20-25 | 300 |
| 6 | 1 | 20-25 | 300 |
| 0.8 | 1 | 35 | 400 |
| 1 | 1.2 | 30 | 350 |
| 1.5 | 2 | 30 | 400 |
| 3 | 2.5 | 45 | 500 |
| 2 | 1.5 | 50 | 550 |
| 3 | 3 | 50 | 650 |
| 2 | 4.5 | 50 | 850 |